Password reset not working?
We all hate it when this happens... but there are some quick steps you can take to get logged in again without having to wait.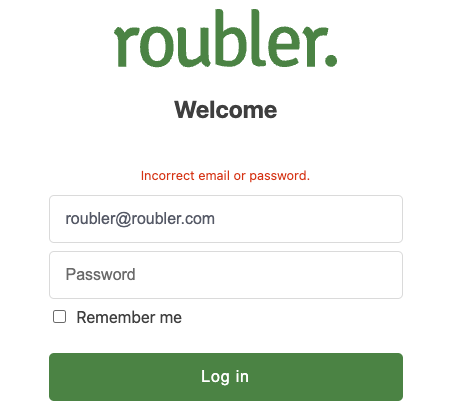 Before you log a ticket, we just have to ask....
1. Are you using the right email address? And is your email address spelt correctly without typo's. spaces or errors? Check your email address, resubmit the request and give it up to 10 minutes to come through.
Hint: You will only get the reset link if you enter the same email that you used when onboarding with Roubler.
2. Have you checked your SPAM or JUNK folder in your emails to make sure it did not go there, this can happen sometimes..
If you still don't have your reset email, we are really sorry! Please drop us a request at support@roubler.com with the below details so we can get back to you as quickly as we can.
Your full name

Where you work

The email address you have been using to try and log in or reset your password

We can also update your email address that you use to login if you like. Just let us know what your current login email is and what you would like to change it to when you submit your request
Something Else?
Other problems logging in can include
Blank screens
A "Something went wrong" error message
A login loop (where you are repeatedly asked to login)
An "Oh no!" error on the Roubler mobile app.
Most of the time, this can be easily resolved by clearing your cookies and cache on your browser
It takes just a minute and can get you back online super fast, its the first thing we will ask you to do when you log a ticket.
For instructions, see your browser's documentation. You only need to delete cached files and images, and cookies – there is no need to delete browsing history, saved passwords, or other data.