Follow these instructions to set up your clocking device/clock in app on Android.
Please note, to set this up you will need at least one rosterable employee.
Steps to setup Roubler clock differ depending on the actual hardware used, but should follow a similar process to the below:
Open a browser on your device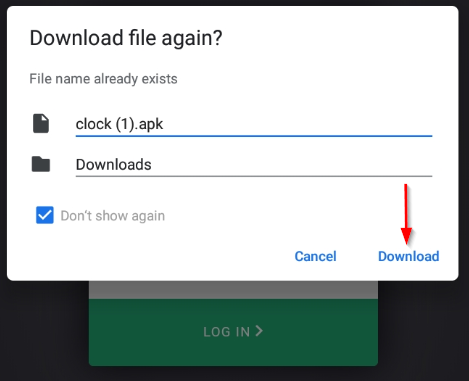 3. Click Install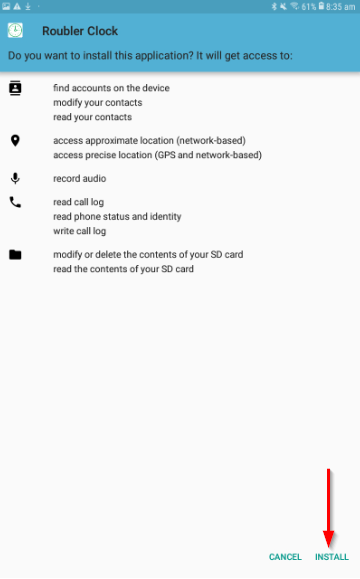 4. Once you open the Roubler clock on your device, the below screen will appear: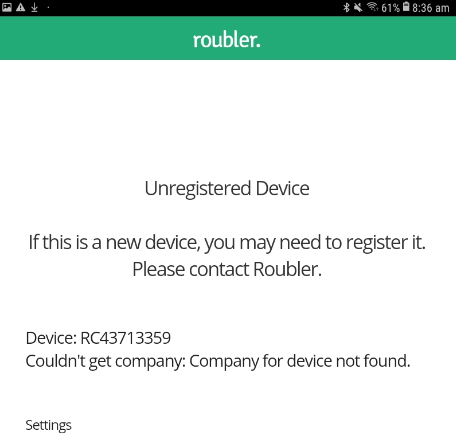 5. You will need to Register the device with the specific company/location (through the web application), see How to register a Clock to a Location. Once registered, wait several seconds and the tablet should connect to the specified location.
6. Push the "recents" button (on the bottom-left, looks like two little rectangles) and tap the pin icon to pin the clock application (see optimal settings list below on how to activate this option)
7. Your device is now ready
Autostart and Launcher
This version of the clock autostarts with your device and provides you with the option for your android device to "launch" with the clock.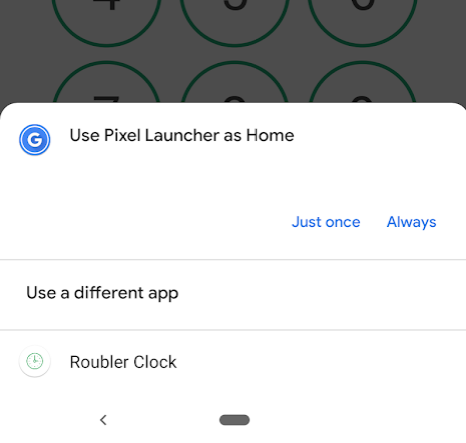 This example is on a Google Pixel. When prompted, simply choose "Roubler Clock" and it will always launch on your device.
*For optimal performance:
Go into Settings/ Lock Screen and Security/ PIN
Edit device settings to allow the application to be pinned
Go back to Settings/ Lock screen and security / Other security settings / Pin windows (turn this on)
Update settings to prevent the screen saver ever coming on (quite complicated as we have to get around normal Android settings)
Open Settings on the tablet.
Scroll all the way down and tap on "About device."
Tap on "Software info"
Look for the entry labelled 'Build number.' Tap that 7-10 times until you see a prompt that says 'You are now a developer!'
Go back to the Settings and you'll see a new entry labelled "Developer options" right above "About phone." Tap on it to open those settings.
Make sure "Stay awake" is switched on.
Disable updates
Go back to Settings / About device / Scheduled Software Updates (turn this off)
Disable notifications by going into Settings / Notifications and disable all
You will need to register this device by logging into Roubler on your computer navigating to Management > Settings > Add Device. This is where you can add in the device ID and the location that you would like the clock to be assigned to. See related article: How to register Roubler Clock to a Location
Note: Clock app does not have system requirements hence it should still be functional on any given device and android version. Issues that may occur would have something to do with the device not being supported by the android version.