Feature overview:
To enhance expense management and provide better tracking capabilities, we have a new status. Currently, expenses can have three status values: Pending, Approved, or Declined. However, we understand that many clients deal with a high volume of expenses and need a streamlined way to track payments.
In response to this, we are introducing a new feature that allows users to mark expenses as Paid directly within the user interface (UI). This will provide a convenient and efficient way for clients to keep track of which expenses have been settled and which are still outstanding.
Additionally, to accommodate any potential errors, we will include an option to roll back an expense to the "Approved" status. This way, if a mistake is made during the payment process, clients can easily correct it at once.
How it works?
A manager with payroll permissions or has access to view and manage the Expense Claim section,
the option to make the status Paid from Approved.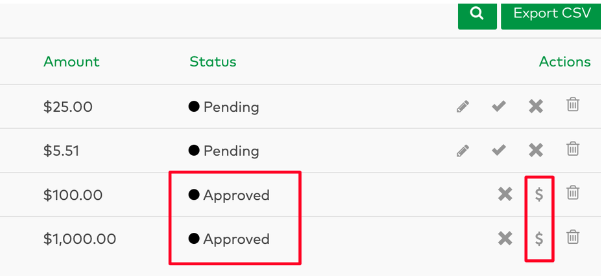 click the Paid / $ icon to update the status

click the Approved / check icon to roll the Paid expense back to Approved

Note: The Paid status is for Roubler side only and doesn't flow to the pay engine. This is to have visual on what expenses have been paid.