Updating Personal Details
Employees can update their details within the employee portal in two ways:
1. By selecting the My Profile tile upon logging in, or

2. By selecting their name in the top right corner then My Profile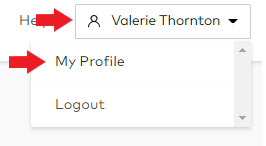 The My Profile screen will appear. Here, you are able to change details such as:
Personal Information - First name, Last name, Middle name, Preferred name, Date of birth, Gender, Email, Mobile number and Alternate phone number.
Address - Home Address and Postal Address.
Bank Accounts - You can add multiple bank accounts and control how much of your pay goes into each account by specifying a percentage or a fixed amount. You can also edit your KiwiSuper details.
Licenses & Training - You can add multiple employee requirements, such as certificates etc.
Emergency - Emergency Contacts details.
Settings - Update your password and set facial verification.

Note: In order to update employee details it needs to be enabled by the payroll administrator under business settings. If you see that fields are locked in read-only mode, your payroll administrator has not enabled such access. As such, you will need to advise payroll or your manager of any details that need updating so they can do it on your behalf.