Summary of Support Services
Roubler's Global Support Team
Roubler maintains a Support portal and knowledge base 24/7 Days.
The self-service portal in the Software contains troubleshooting topics, a general user guide as well as specific recorded training tutorials in addition to how to report user issues using the Support Desk email support ticketing system.
Support requests received outside of business hours are supported for emergency situations such as large scale service interruptions that affect multiple Users and are governed by the Roubler Priority rating below.
The Support Desk representative will be responsible for classifying if the support call is an emergency.
All reported issues receive a reference number (ticket), serving as a reference for the issue process.
Hours of Support
Roubler Support offers Standard support hours: 9.00 am – 5.00 pm Monday to Friday
AEST, GMT+2, GMT , GMT+8
Support Channels
Support tickets can be logged by all users via email/webchat or phone (Email) support@roubler.com or Webchat Via your Roubler Software
Emails, Webchats and Phone Calls will create a support ticket in Zendesk which will be reviewed and triaged with the above priority level
Telephone

Australia 1300 833 137
South Africa +27 10 500 3918
United Kingdom +44 20 3314 6747
Singapore +65 3163 6786
Hong Kong +852 5803 6615
New Zealand +64 9 802 3646

Please note that webchats and phone calls will be also prioritised as per the below priority definitions - you will be provided a ticket number that will be responded accordingly unless your matter is urgent/critical.
Priority Levels & Definitions
Where a customer submits a support request in accordance with the Roubler SaaS Agreement, Roubler will determine the priority level of the request and respond in accordance with the table below, provided that the Customer has provided all information regarding the support request reasonably requested by Roubler.
Priority is the primary manner in which incidents are ranked, and it is determined by reference to the severity, urgency, impact selected by the Customer and the analysis of Roubler's support and development teams.
Impact Definitions
Single User In this case the issue is only observable by one end user or involves functionality that only one end-user utilises. No other end users are affected by the issue.
Multiple Users In this case the issue impacts the functionality of the service for multiple users.
Response Time
Response time indicates the time taken for Roubler to respond to a support request logged by a Customer, measured from receipt of the information required from the end-user for Roubler's Support Team to begin resolution and open and issue a support ticket in Roubler's support system.
Due to the wide variety of customer issues that can occur, and the methods required to resolve them, response time is not defined as the time between the receipt of a call and issue resolution. After classifying the reported issue Roubler shall use a reasonable method to provide the User with a progress update.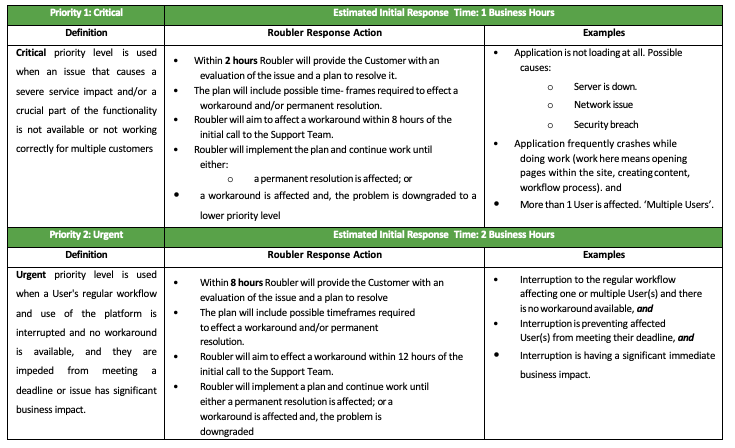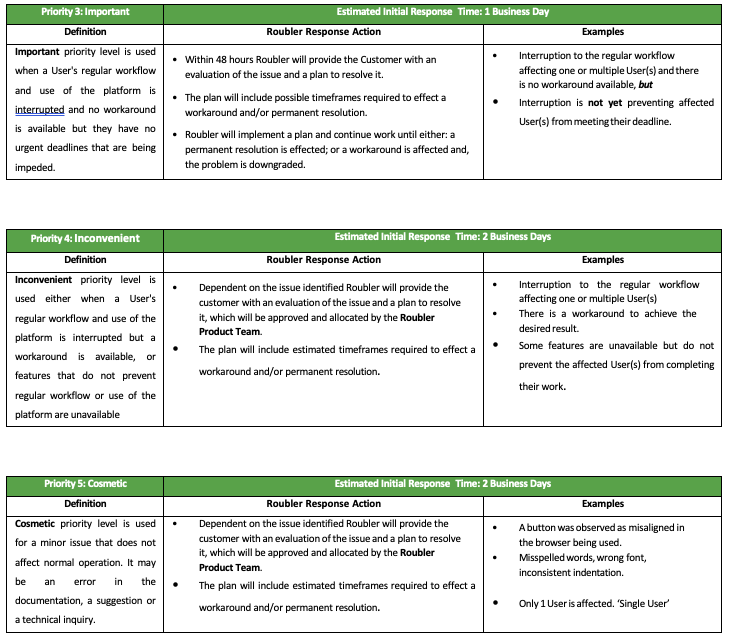 Help Desk Support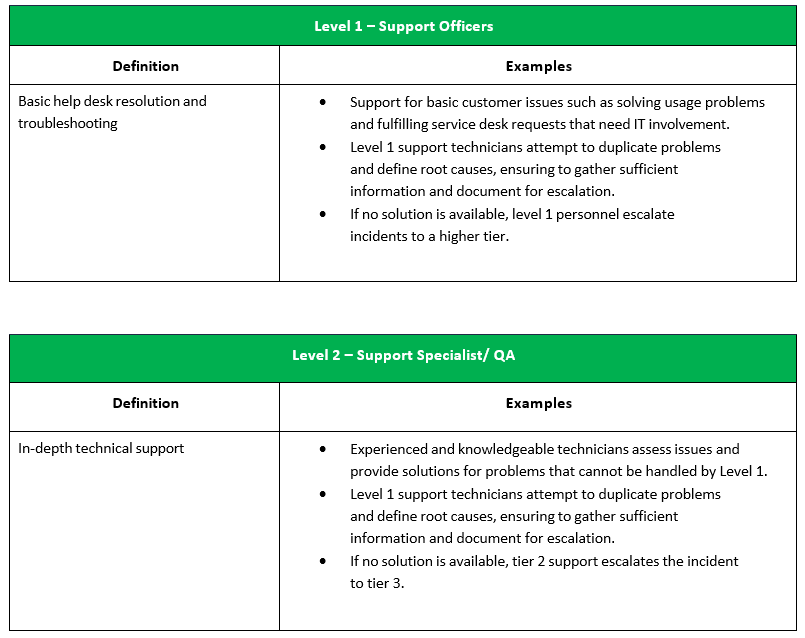 Service Level Policy - Overview
Roubler is committed to providing a highly available and secure network to support its Customers. This Service Level Policy (SLP) describes the service availability commitment for Roubler Hosted Services (i.e. the Platform) provided where agreed under a Roubler SaaS Agreement with a Customer. Unless otherwise provided, capitalised terms take their meaning from the Roubler SaaS Agreement.
The parties may agree on additional service levels on a case by case basis. Any such additional service levels will be quoted by Roubler once it understands the relevant Customer requirements, and if agreed, recorded in writing. They will be effective in accordance with their terms.
Roubler uses external monitoring tools to measure whether its Hosted Services are available, and the Customer agrees that these measurements will be the sole basis for resolution of any dispute that may arise between the Customer and Roubler regarding hosted service availability.
Service Level Objective
We endeavour (but do not guarantee) to keep our Hosted Services online 24 hours, 7 days a week, 365 days a year with an Uptime Percentage of 99.95% (Service Level Objective or SLO).
Uptime Percentage means the percentage calculated as follows: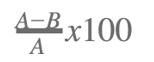 Where:
A is the total number of minutes in a given calendar month
B is the total number of minutes of Downtime
Downtime means the total accumulated minutes in a given calendar month for a particular Roubler Hosted Service during which that Hosted Service is unavailable. Downtime does not include unavailability of a hosted service caused by an Excusing Event.
Excusing Event means any of the following:
routine or emergency maintenance of the Hosted Services or any other scheduled downtime agreed to by the parties;
unavailability of a hosted service resulting from use of services, hardware or software provided by a third party, including the Customer's internet connection;
anything outside Roubler's direct control, including force majeure events such as acts of God, war, earthquake, flood, embargo, riot, sabotage, labour disputes (other than Roubler's own employees), or government action.
any failure or defect in the Customer's hardware, software or network connection, including modifications to hardware that contribute to downtime;
Customer's bandwidth restrictions;
Customer's failure to supply accurate, complete, and timely information when requested; and
Customer's use of the Hosted Services other than as directed by Roubler.