As a manager, you can complete a time entry on employee's behalf/for an employee who has not clocked for their shift by going to Time page. Please follow through the steps below.
1. Click Time on the navigation bar on the dashboard.
2. You will then be redirected to the Manage Time page. In this page, you will be able to see all employee timesheets.
3. If the employee fails to clock on or off the clock logs will be seen on the Unassociated Shifts and Clock Entries section found on the bottom of the page. Click on it to expand. Click Complete on the incomplete shift.

4. The complete timesheet modal will open. Enter the necessary details and check everything is correct. Click on the Complete button.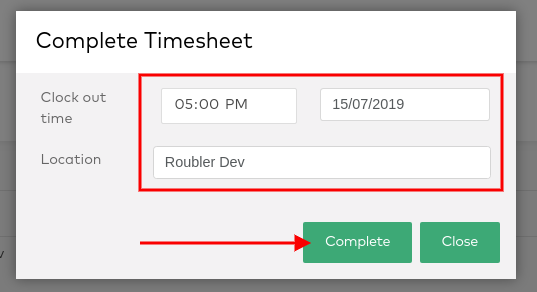 5. The timesheet is now completed and be displayed along other timesheets.

If employee has no clock logs but has a rostered shift you may click on Complete beside the rostered scheduled.

If employee has no clock logs and has no rostered shift you may manually add a timesheet by click on the [ + ] button found on the upper right of the page. Input the correct details then click Add.