As a manager, you can set cost capping for your employees. Please follow through the steps below.
Cost capping feature allows you to enable the cost capping for full time employees and set how many hours worked in a week. (eg. If you set an employee to work 40hrs per week - only the 40hrs shift will be costed any succeeding hours will not be costed.)
1. In the header bar, click on the Management link then click Settings

2. On the Settings page, click on the Employee Settings tile

3. Select a full time employee to enable the cost capping then set a "How many hours work?"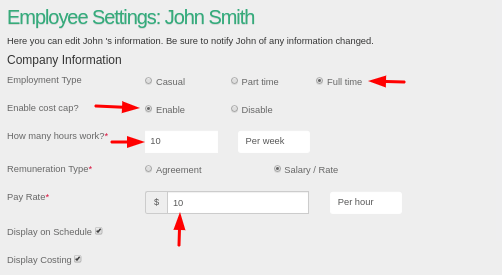 In this example above, if John Smith worked for 16hrs in a week only the first 10hrs will be costed.

For the first shift - 9hrs was costed. As for the second shift only the first 1hr was costed and that completes the set 10hr worked in a week. Succeeding hours of 6hrs was not costed due to the cost capping.
Note: This is only applicable to Full time employees and has a fixed pay. If you are paying overtime to employee, cost capping should not be enabled as the overtime hours will be not be paid or costed.