Our customers can automatically pull in sales data from their point of sale system into Roubler, without the need for CSV imports. This feature is made possible thanks to our partnership with integration platform Bluesheets.
By integrating your point of sale system with Roubler, you can:
Compare roster costs vs sales
Calculate labour efficiency
Build rosters based on forecast demand.
It is possible to bring in data from almost all point of sale systems on the market. The only requirement is that the point of sale system needs to have the ability to send either daily, hourly or monthly sales reports to an email address.
Activate POS integration
Contact your Customer Success Manager to activate this feature.
Get started
Once set up, you will be sent an email where you will be required to register your account. Note this email will be from our partners at bluesheets.io, not Roubler.

Click Register
Nominate a Password
Click Accept invite


Log into Bluesheets

Click Integrations
Turn on connection with Roubler

Enter your Roubler login details.


Once connected, you will need to email POS information/sales data file to docs@bluesheets.io in any format (PDF, Word or Excel). Once this has been emailed the first time the system will receive the document under the processing page.
Wait for a few seconds, the document will appear to be ready for export.
Set up rules
Go to the Rules tab
Set-up document rules
Map the locations in the POS or sales report to Roubler 's locations

The main location should be the name of the company in the Roubler system

If the report only has one location, check the Single location checkbox
Select Multiple locations if you have more than one location feeding in from the point of sale system.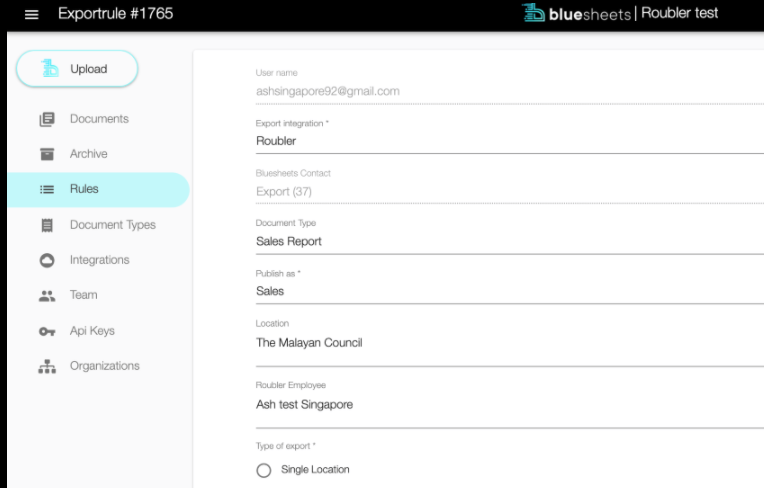 Map your point of sale locations to the locations in Roubler. Both names will be pulled in from your point of sale system and your Roubler systems.

Enter the Location bluesheets - this should be the name of the location in the POS sales report.
Enter the Location - this should be the corresponding location in Roubler.

Select Auto publish future documents - this means every time the system gets a point of sale document from the point of sale system it will automatically publish this into the Roubler system.