Facial verification for employee clock-ins is an optional feature that uses advanced artificial intelligence to cross-references photos and ensures that the correct employee is clocking in and out for their shift, reducing time theft.


How does the facial verification feature work?
The feature works by analysing historical clock in and clock out photos of an employee to search for a match. An accurate profile of an employee is created after their first three shifts. From here, whenever that employee clocks in or out, the system will verify whether it's really them.
When an employee clocks in, the system will compare the photo taken to their photos on record to determine the likelihood of a match. If the system finds no issues with the photo, all is good and the workflow continues as normal.
If the photos do not match, you will see an error message saying "Invalid employee clock photo" on the employee's timesheet, highlighting that there was an issue with their clock-in photo to allow you to take relevant actions.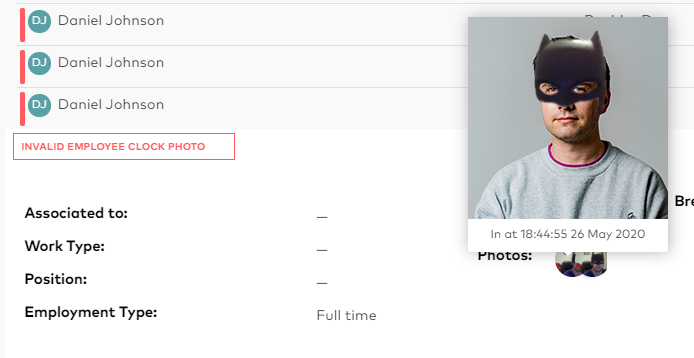 Unfortunately, you cannot be Batman.
To help the system identify employee clock-in photos accurately, we recommend that the initial photos and subsequent clock-in photos be taken with minimal facial expressions.

How does the error alert work?
The error alert can be configured based on a minimum matching threshold. A threshold of 90 is the default, meaning the system will accept a 90% match of a photo. If you believe that you may have poor camera quality on your employee clock in device, you may wish to reduce this number.
The alert can also be configured to block the timesheet submission if there's an invalid photo match. This can be overridden (and logged) by the authorised manager.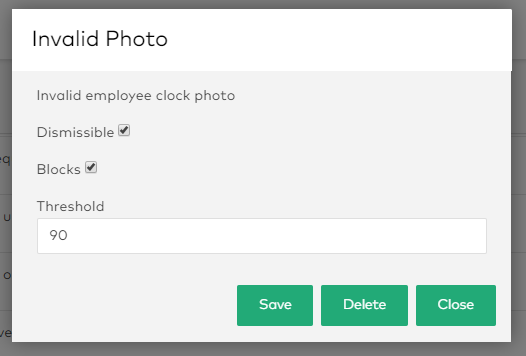 How long does it take for the photos to perform a reference check?
Results can be seen in approximately 2-15 minutes, depending on how busy the systems are and how many people are clocking in and out at the time.
Will facial verification work for employees wearing medical face masks?
The facial verification technology is designed to verify photos even when a medical mask is being worn. We performed tests where the bottom half of a face was covered, and still had very accurate results.
The example below was correctly verified as a valid employee photo, with a threshold of 90, which means that the system was more than 90% confident this image matched the original photos. You can also amend the threshold if required.

How is an employee opted in for facial verification?
Employees can be opted in for the facial verification feature in two ways:
Default opt-in
When facial verification is enabled for a company, you have the option of setting all employees to be opted in by default. In this scenario, the employer is responsible for ensuring appropriate consent has been obtained, recorded and communicated. To enable this setting, please contact your Customer Success Manager or email us at support@roubler.com.
Individual opt-in
When facial verification is enabled, employees need to provide consent via their employee profile in the web portal. We strongly recommend you communicate the use of this feature to your employees.
How can an employee remove their consent for facial verification?
When facial verification is enabled and an employee wishes to opt out, they can withdraw their consent via their employee profile in the web portal.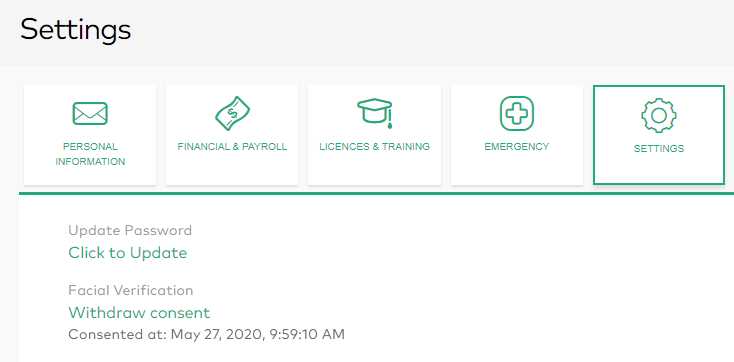 This will prevent any of their existing or future images to be used for facial verification purposes.
A key reason for the facial verification feature is to prevent the use of stolen identities, which means that if employees do opt out you may need to ask them to use an alternate method of verifying their identity upon clocking in for their shifts. Our mobile clocking feature may be suitable for this purpose.
How private is facial verification?
We don't keep any personal information transmitted used to verify or identify employees, and images taken are stored only within Roubler's secure online storage systems that are hosted on AWS. The photos do not leave the AWS ecosystem.
How do I learn more or enable this feature?
Facial verification is an optional feature. If you would like more info on this or need support, please contact your Customer Success Manager or email us at support@roubler.com.