Create a regular template
Open the Roster
Click …
Select Templates
Click Create
Enter a Name, the number of Days the roster should cover, and the Location it applies to

Click Add
Click Close
Add shifts to the template
Click + to add a new shift to the template
Select a Position
Select a Location
Enter the Number of shifts for this position you would like to add into the template
Ensure Demand based shift is set to No. To build a demand based template, see the instructions in this article.
Enter a Start time and End time for the shift
Enter a Start day from which you would like these shifts to appear
Enter an End day - either Same day or Next day for overnight shifts
Enter a Break duration for these shifts
Enter any relevant Employee notes
Click Save
Click Close
Repeat steps 1 to 12 to build out the roster template.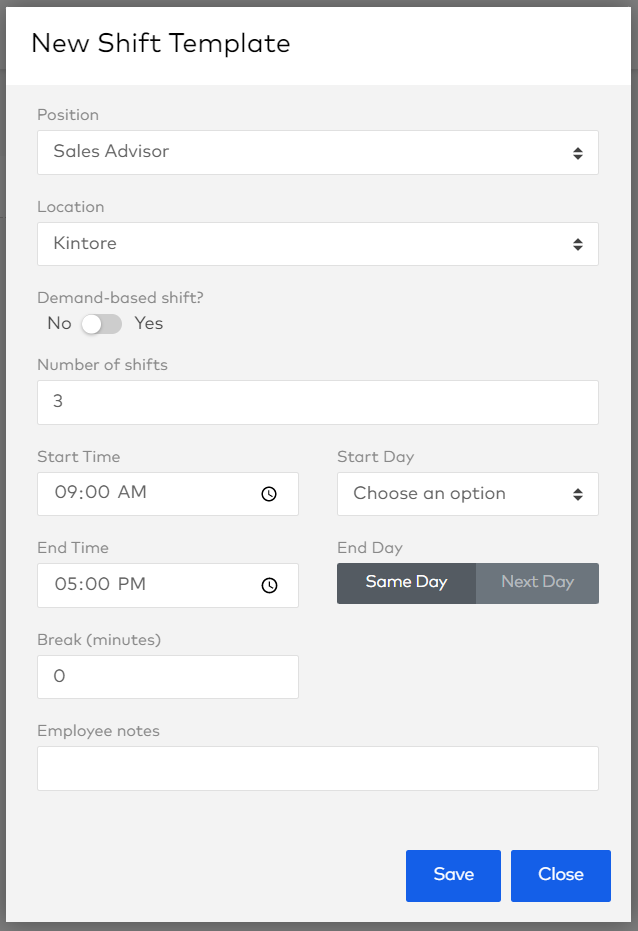 Edit shifts in a template
Click on the shift you would like to edit
Enter or edit details as required
Tick Show advanced to add:

Requirement such as a first aid certification
Work Type
End Type
Employee Notes
Delete shifts from a template
Click on the shift you would like to delete
Click ... at the bottom of the popup
Click Delete
Confirm the deletion by clicking the red Delete? confirmation
Change the name/days/location of a template
Click on the name of the template in the top left of the template screen
Edit the name/days/location as required