The roster includes user-friendly tools and templates to make building rosters and assigning shifts quick and easy. It also provides visual indicators of roster costings, efficiencies and compliance, enabling informed decision making around who to roster on.
Navigating to the roster
Open Roubler
Click Roster in the main navigation bar
Building a roster
There are many ways to build a roster in Roubler, depending on your business needs. You can:
Build a roster from scratch
Copy and paste an existing roster
Create and use a roster template:
Assign shifts within a roster
There are several ways to assign shifts to employees in Roubler:
Roster functions
The following functions are available within the roster (from left to right):
| | | |
| --- | --- | --- |
| Filter/button | Function | Details |
| | Group | Click and select an option to group the roster by employee, location, position or cost centre |
| | View | Click and select an option to view the roster by day, week, fortnight or month. |
| | Date range selector | Select the date range to display in the roster |
| | Sales forecast | Click to enter or import sales forecast and actuals data |
| | Add shift | Click to add a new shift |
| | Copy | Click to copy shifts |
| | Colour options | Click to colour code the roster by position, employee or location. This effectively provides a second level of filtering in addition to the group, view and date range filters above. |
| | Display costing and detailed totals | Click to show costing or detailed totals in the roster |
| | Cost/hours/forecast breakdowns | Click to show breakdowns of cost, hours, efficiency etc for the roster period, in graph and/or table format. Note: costings are only available to those with the appropriate access level. |
| | Filter | Click to filter shifts that are unassigned, published, unpublished, leave, with alerts, without alerts, busy, empty groups, or any combination of the above. For effective rostering, we recommend ticking all the boxes. |
| | Additional options | Click to access additional tools and functionality that is built into the roster feature. See additional options section below for details. |
| | Publish | Click to publish all shifts without alerts in the roster view. Bear in mind, every possible shift will be published - depending on what is visible within that view. |
Additional options
Shift tiles
The design of the shift tiles provides as much information about a shift as possible, at a glance.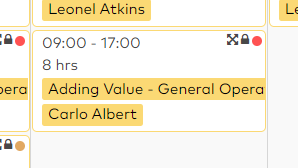 | | |
| --- | --- |
| Indicator | Details |
| | Indicates shifts that can be dragged and dropped |
| | Different coloured flags are displayed on the tiles to make it easy to understand the status of each shift. For details, see the flag colours section below. |
| Padlock | |
Flag colours
| | | |
| --- | --- | --- |
| Flag colour | Function | Details |
| Orange | Unpublished | All shifts that are yet to be published e.g. draft shifts/ employees not notified |
| Green | Available | For those companies with the Shift Swap feature enabled, this green flag means that this shift is up for swaps. |
| Blue | Requests | This flag identifies shifts where a temporary change or shift request has been send and is currently pending acceptance. |
| Red | Alert | Identifies shifts that have conflicts or errors, sometimes preventing them from being published. For details of alerts, see this article. |